Shopping Cart
Your Cart is Empty
There was an error with PayPal
Click here to try again
Thank you for your business!
You should be receiving an order confirmation from Paypal shortly.
Exit Shopping Cart
Ons lichaam heeft het vermogen om zelf uit aminozuren eiwitten samen te stellen. Zelfs kan het verschillende aminozuren zelf maken, maar met een aantal zuren lukt dat niet. Dit tiental aminozuren moet door ons voedsel aangevoerd worden. Zij worden de essentiele aminozuren genoemd.
De kleinste hoeveelheid van de benodigde aminozuren bepaalt hoeveel er kan worden samengesteld van het eiwit. Ter vergelijking het volgende: voor het maken van de Nederlandse vlag heeft men banen nodig van rode, witte en blauwe kleur. Heeft men nu duizend rode en duizend witte banen en vijf blauwe, dan kan men slechts 5 vlaggen maken. Nu zijn er eiwitten met bijvoorbeeld veel rode en witte banen en eiwitten met veel blauwe. Kombineert men nu aan één maaltijd deze eiwitten, dan kan het lichaam dus voldoende Nederlandse vlaggen, oftewel de gewenste eiwitten samenstellen uit die rode, witte en blauwe banen.
Op dit principe berusten de vele combinaties van voedingsmiddelen; bijvoorbeeld
aardappelen met vlees, gierst met linzen, rijst met soja, tarwe met bruine bonen, bonen- of erwtensoep met roggebrood.
Er zijn tien essentiele, die niet door het lichaam zelf geproduceerd kunnen worden. Van deze tien echter, zijn er twee slechts in een bepaalde levensfase van wezenlijk belang: isoleucine en leucine.
Een eiwit waarvan bekend is dat het de essentiele aminozuren in een voor ons goede verhouding bevat, is het eiwit in het kippe-ei. Niet het wit van het ei bevat het meeste eiwit, maar de dooier. Eieren bevatten echter ook nog cholesterol en zwavelverbindingen. Daarom wordt aangeraden niet meer dan twee of drie eieren per week te eten.
Meer over dit alles kunt u ook te weten komen door een cursus HELP YOURSELF te volgen. Geef u op via de website, of door te bellen met tel.nr. 06-51002585 of door te mailen naar [email protected]
| | |
| --- | --- |
| Posted on June 20, 2014 at 11:54 AM | |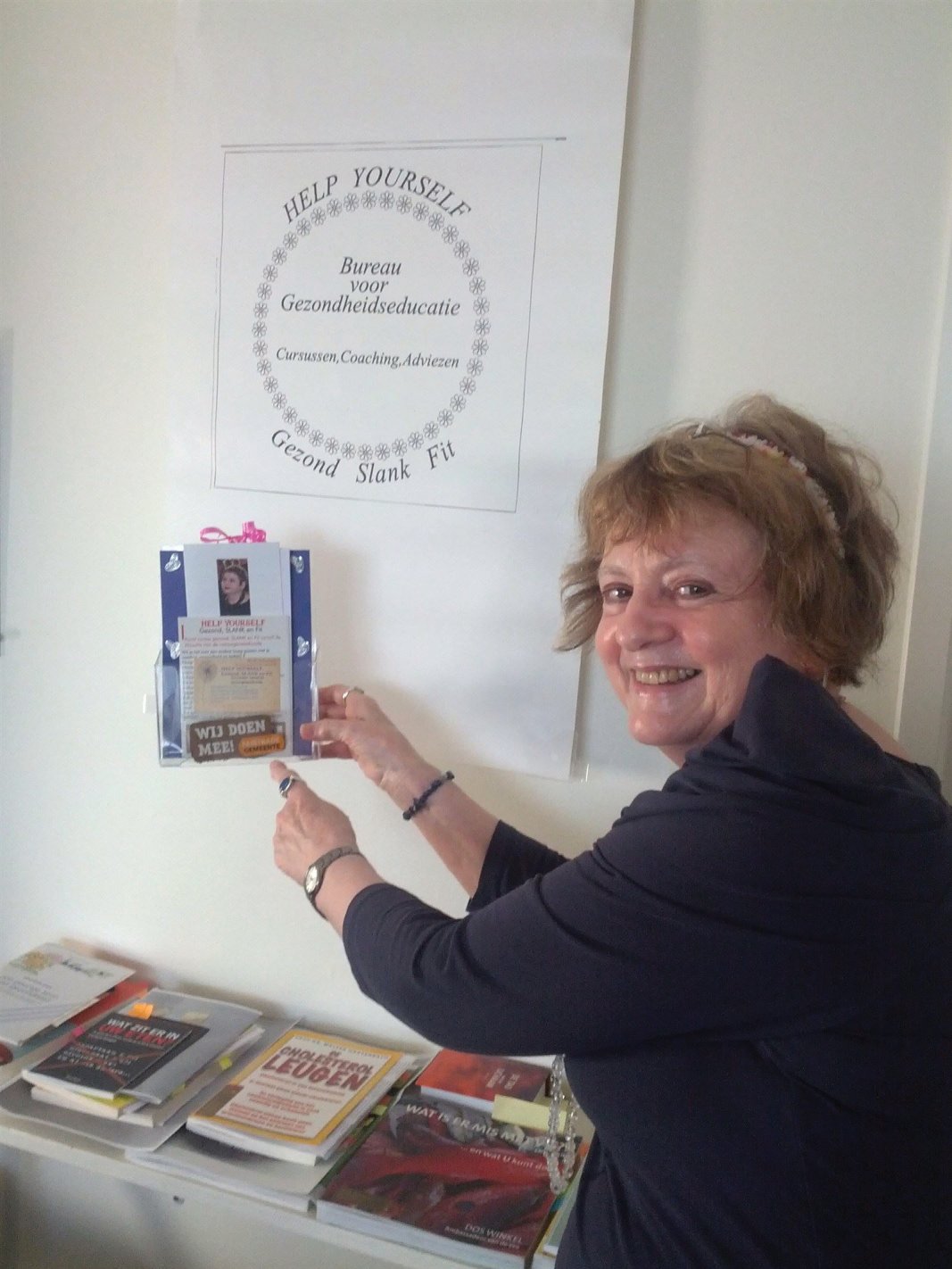 Er is mij een "Fairtrade Gemeente Titel"  toegekend door het C.O.S. (Centrum voor Ontwikkelingssamenwerking) Limburg. Dit omdat mijn cursus HELP YOURSELF, mijn website en mijn blog-artikelen een "duurzaam" produkt c.q. gebeuren wordt geacht. Bij de foto neem ik de sticker "wij doen mee" in ontvangst van Pim Hermans programma-coördinator van het C.O.S.
Toch iets om trots op te zijn !
Categories: None
/